St Albans Festival Pilgrimage 2009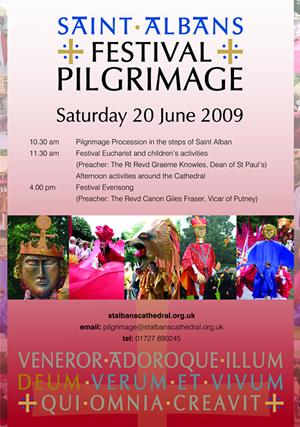 Saturday 20 June
10.30 Pilgrimage Procession from Roman Verulamium
(the site of Alban's trial)
11.30 Festival Eucharist
Preacher: The Rt Revd Graeme Knowles, Dean of St Paul's
11.30 Children's Worship and Activities in the Abbey Primary School. Celebrations of St Alban continue with drama, games and worship. All children welcome.
From lunchtime food and drink will be available from the Café at the Abbey and stalls on the Abbey Orchard, along with chariot racing, lion taming, bouncy castles, circus skills, and lots more.
14.00 Molieben (Orthodox Service of Intercession)
held at the Shrine of Saint Alban: all welcome.
16.00 Festival Evensong and Procession to the Shrine
Preacher: The Revd Canon Giles Fraser, Vicar of Putney
Groups and individuals are warmly welcome to take part in the Festival Pilgrimage.
To help with our planning, please register to let us know you're coming! Contact the Cathedral Office on 01727 890245 or email pilgrimage@stalbanscathedral.org.uk
Information for Pilgrims is available as PDF file.