The Manifestation of Christ

or Good news for non-believers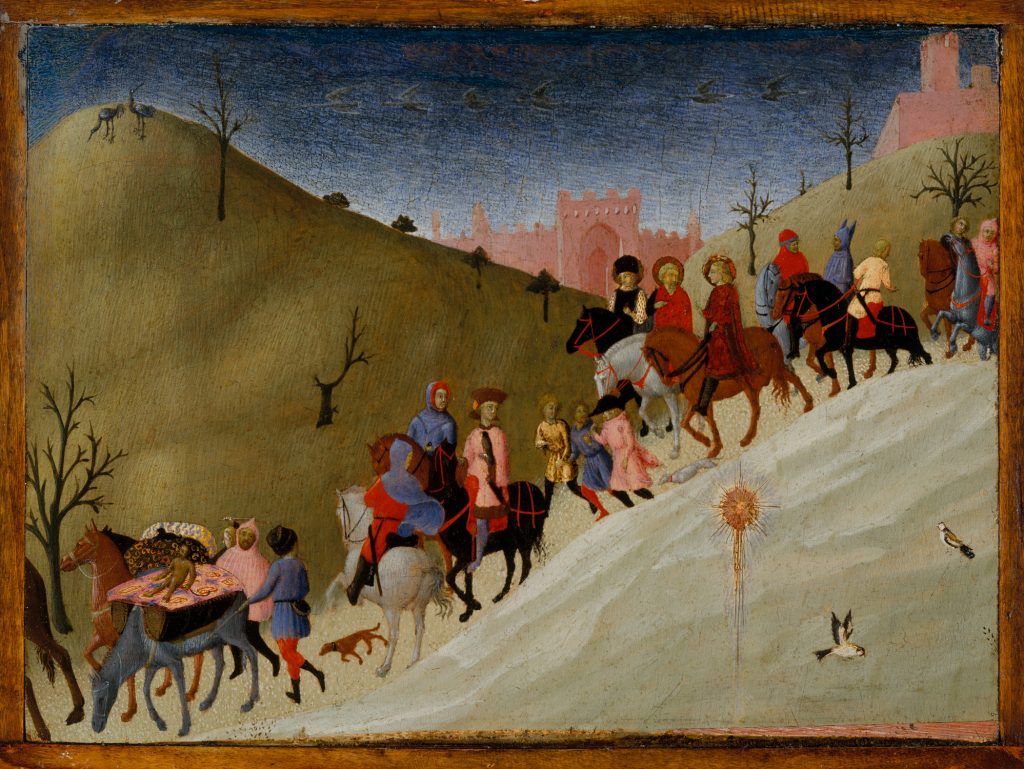 Today is the twelfth and last day of Christmas, and tonight at evening prayer the Church begins the celebration of the Epiphany. The Christmas story in Matthew tells how the Magi, wise men, came from the east to visit the infant Jesus, and this has long been interpreted as showing the Christ-child to the wider world of non-Jews near the start of his human life, as well as a recognition by them of his birth. During the next few weeks of the Church's year there is a continuing focus on the story of how Jesus first came to public attention and how he began to teach his message or good news.
Many of us, perhaps all of us, can look around at our lives, at our relationships, at the state of the world, and wish it were better — whether for ourselves or for others. We can all dream of living in a place where it is good to live. A place where everyone has security and shelter and enough to eat, where everyone has value and is treated fairly, where no one holds grudges against other individuals or groups. In short, a society that is not "broken" and that lives at peace with itself and its neighbours.
Jesus's message is that this place can exist, and that we have it within ourselves to choose to live there, at least in part. Each one of us can make the choice to live in that place of reconciliation and trust, peace and social justice. If we choose to live our lives in that way then we will be citizens of that place.
In Jesus's language this place is the "kingdom of God", because it is the place where God's will is done, and that will ultimately is "love". Jesus's good news is that this kingdom, this "living in love", is already at hand, here and now — it has already begun. All that we have to do is open our eyes and see the simplicity of it.
Opting in is entirely voluntary, and even those who have opted in will get it wrong, perhaps more often than not. So it won't be perfect, because it is a place inhabited by fallible human beings in a world where not everyone has opted in and where mistakes and natural disasters also happen. Living this way is vulnerable. Jesus's followers have long said that the kingdom will come at the end of time — and this is a recognition of the fact that the whole world isn't going to accept the message for a very long while, if ever. So though the kingdom in all its fullness is not yet here, that makes it all the more important to choose to live in it now, and to share the good news and to encourage others to join in. We can still live partly in the kingdom, glimpsing the possibilities of its fullness.
What then is the role of religion in this, and what is the role of the Church? These are good questions. They highlight the problem with institutional religion.
Jesus, in the gospel stories, doesn't have a lot of time for organized religion, and those who considered themselves holy and religious. He criticised the Pharisees and the Sadducees, whom we might see as typical of local religious leaders and the religious establishment, types that existed then and still exist today. Many in both groups understood Jesus's concept of God's rule, God's kingdom, but (like many others down the ages, and still today) they were caught up in their own concepts of spirituality and nationality and their own priorities, and either failed to grasp what Jesus was saying, or failed to act on it.
Where does this leave the Church? As people used to ask, do you have to go to church to be a good Christian? Certainly the Church has a lot to answer for. Over many hundreds of years it has helped to suppress and control individuals and populations, and allowed itself to be used by states to achieve their aims, or indeed has corrupted states to achieve institutional goals. It has allowed itself to be limited to a "spiritual" life, teaching a personal piety and obedience, and the promise that things will get better, sometime. It has sacrificed individuals and groups to its own ends. And it's easy for its members to get caught up in its institutional life, serving on its boards and commissions and councils, even carving out a career in church politics. It's easy too to get caught up in its "religiosity": in personal piety, personal devotion and personal belief as ends in themselves.
The Church, however, has also preserved the teaching of Jesus, and other great figures, and never lost sight of the centrality of his message, even when it has largely failed to understand or implement it. Individual Christians have led some of the great reform movements, such as the abolition of slavery, moves to racial equality and sexual equality, mass education and healthcare, humane working conditions, prison reform and so on.
The Church, for all its many and profound failings, is the group of people who follow Jesus, and stand in line with him: the community of his followers down the ages, even if a divided community.
The Church is also the primary place where those who commit to trying to live in the kingdom can interact with each other. Here above all other places is (or should be) the place where social justice and compassion are preached and practised. Here above all other places is (or should be) the place where the hungry are fed, both literally and figuratively, and the homeless and destitute cared for. Here above all other places is (or should be) the place where people forgive each other for the wrongs they have done to each other, and are reconciled. Here above all other places is (or should be) the place where Jesus's good news is proclaimed and human beings welcomed to participate in it.
Where does that leave the believer and the unbeliever? No mention has yet been made of belief in God, belief in heaven, belief in the infallibility of this or that, or the special nature of someone or something. The story of the arrival of the Magi shows that Jesus is for Jew and Gentile alike: in today's language, Jesus and his message are for the believer and also for the non-believer. The gospels do not record that Jesus required belief in any dogma or religious doctrine — only trust in what he was teaching, trust to begin to do it. There is no test of belief to be a citizen of this kingdom. There is no religious creed, no statement of religious belief.
Rather, what is required is to start again: to be willing to recognize (without unnecessarily beating ourselves up about it) that we don't always get things right; to be willing to both give and receive forgiveness; to act to bring about reconciliation and social justice to all our neighbours, where Jesus's definition of "neighbour" is "someone who needs our help"; to join with those who are trying to do the same; and to share this good news with others. The kingdom of God is built one person at a time — it is here, it is now, it is indeed at hand; and one day it will exist in its fullness.
What about God? Everyone must come to their own conclusions on that, and about the literal existence of God, because God's kingdom — the place where the rules are love and peace, forgiveness and reconciliation and social justice for all — is a concept that exists whether you believe in God or not. Just as the arrival of the Magi in the Christmas story indicates that this baby is significant to Jews and non-Jews, so too he, and the kingdom he announced, are significant to believers and non-believers.
God's kingdom is for all. And it's there, in part, right here and now. Just open the door, and let the kingdom in.
Simon Kershaw is a founder and editor of Thinking Anglicans.
---
We invite you to make a contribution to the Church Urban Fund, which helps local groups work among the homeless and destitute, and tries, through local projects, to help them turn their lives around. You can support their work via this secure page www.cuf.org.uk/donate/advent-appeal/24/credit-card. Thank you.