ECUSA HoB elects Katharine Jefferts Schori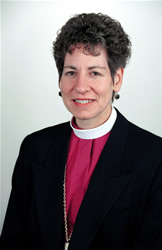 Episcopal News Service
Sunday, June 18, 2006
[ENS] Katharine Jefferts Schori, bishop of the Diocese of Nevada, has been elected June 18 by the House of Bishops as the 26th Presiding Bishop of the Episcopal Church.
Associated Press Episcopal Church elects female leader.
Reuters Woman chosen as top U.S. Episcopal Church bishop
BBC Female chief makes Church history
Ruth Gledhill has a roundup of comments from various people.