Bishop Katharine visits Rowan Williams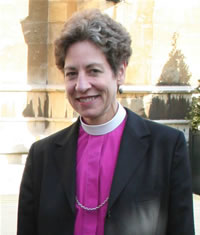 Updated Monday morning
As previously reported by the Living Church, today the Presiding Bishop-elect of The Episcopal Church visited Archbishop Rowan Williams at Lambeth.
Episcopal News Service and the Anglican Communion News Service both carry reports and photographs.
Archbishop welcomes Presiding Bishop, Presiding Bishop-elect to Lambeth Palace
The Presiding Bishop elect meets with the Archbishop of Canterbury
Update The Living Church has a further report, Archbishop Williams Meets With Presiding Bishop-elect Jefferts Schori
Her installation as Presiding Bishop will take place at the Washington Cathedral on Saturday 4 November. Details of the arrangements are described here.
For an earlier video interview with CBS News, go here.
For two videos from the General Convention go here.
Her remarks at a recent conference for ordained women are summarised here.
Update Monday
In his sermon at St John's Notting Hill yesterday, Frank Griswold said:
My reason for being here in London has been to introduce Bishop Katharine to his Grace, the Archbishop of Canterbury. While I have known Archbishop Rowan for many years – our friendship dating back to his days as a professor at Oxford – my successor had yet to meet him. It was an immensely positive and fruitful exchange. During our meeting we were able to share mutual concerns and hopes for the future of our Communion and its ministry of service to our broken and needy world.

The Anglican Communion, through its international consultative council, has committed itself to gender equity in all of its representative and consultative bodies. The election of Bishop Katharine to serve as 26th Presiding Bishop, and therefore Primate, is a first step toward bringing gender balance to what until now has been an all male preserve.

There are those who have indicated that they will not sit at the same table with her. I do hope that once they meet her as a person, rather than as a fabrication of the Internet, they will be able to sense the depth and authenticity of her faith, and to recognize her as a sister in Christ and a fellow bishop.