Updated Friday evening scroll down for additional press releases from TEC House of Bishops meeting
Updated again Monday
Here is the response from the University of Kent to those who have written to them complaining about their hosting of a discriminatory event: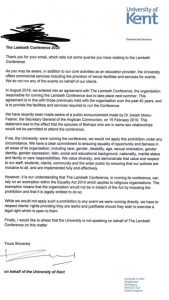 We reported previously on the row about invitations to spouses of bishops attending the Lambeth Conference next year, first here, and then also here.
On 14 March Ben Bradshaw MP asked in the House of Commons about this matter.
Watch the video here.
Ben Bradshaw Labour, Exeter

May we have a statement from the Second Church Estates Commissioner, Dame Caroline Spelman, on the outrageous decision by the Church of England to issue the official invitation to next year's Lambeth conference and explicitly forbid the same-sex spouses of bishops from attending, when the heterosexual spouses of bishops have been warmly invited? This is a totally unacceptable position for our established state Church to adopt, and this House needs to tell the Church we have had enough of it.

Andrea Leadsom Lord President of the Council and Leader of the House of Commons

I was not aware of that situation, and I am grateful to the right hon. Gentleman for raising it. If he would like to write to me, I will certainly raise it with my right hon. Friend Dame Caroline Spelman.
Today the Church Times has a report about the Canadian bishop, Kevin Robertson, affected by this:  Gay bishop accuses Primates of homophobia.
…When asked if he believed the fierce opposition to his presence, let alone Mr Sharma's invitation, from GAFCON­ aligned Primates was driven by homophobia, he replied "I do."

"Because it appears there's an inconsistency," he said, pointing to a blog by the Secretary-General of the Communion, the Rt Revd Dr Josiah Idowu-Fearon, which announced the policy of barring gay spouses (News, 22 February).

Dr Idowu-Fearon wrote that it was because same-sex marriages were inconsistent with a resolution on marriage from the 1998 Lambeth Conference which defined marriage as the lifelong union of one man and one woman.

"I know as we approach 2020 that there are bishops who have been divorced and remarried, in some cases more than once, who are being invited, and their spouses are also being invited," Bishop Robertson said.

"So to hold up Lambeth 1.10 as the reason for Mohan and Becki not to be invited seems a little thin; it doesn't seem particularly consistent…"
Meanwhile, the American bishop affected, Mary Glasspool, has addressed the American House of Bishops. Read the whole of what she said: The Way of Love and Lambeth: Bishop Mary D. Glasspool speaks to the House of Bishops. (more…)
108 Comments