Lambeth Conference spouse invitations
Updated again Thursday
We reported earlier on this: Spouses of bishops not invited to Lambeth Conference unless of opposite sex.
The Lambeth Conference website drew attention to the exclusion and linked to the earlier article from Archbishop Josiah Idowu-Fearon. Here is how it looked: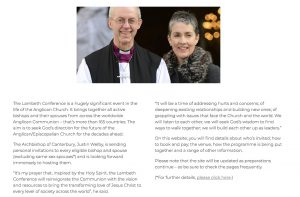 Until last night. When the reference to this matter was removed from that page:

The blog article remains in place, so presumably there has been no change in policy.
Updates
Two other developments relating to the Lambeth Conference invitations:
Episcopal News Service Executive Council asks bishops, spouses to 'prayerfully and carefully consider' response to Lambeth decision
Executive Council has asked The Episcopal Church's bishops and their spouses, and the House of Bishops collectively, "to prayerfully and carefully consider her/his/their response, choices and actions" in the light of what it calls the "troubling circumstances" of the decision to exclude same-sex spouses from the 2020 Lambeth Conference of bishops.
Council unanimously approved a resolution on Feb. 25 that says it finds the decision "inconsistent" with the positions of The Episcopal Church and with multiple statements of Anglican Communion entities that have urged the church to listen to the experiences LGBTQ persons.
"Exclusion of spouses at Lambeth Conference: When does all mean all?" calls the decision "particularly misguided and inconsistent with the stated purposes of the conference," in part because the conference planning group decided to run a joint program for bishops and their spouses, rather than the traditional parallel programs. The FAQs section of the Lambeth2020 website says that the joint conference "is in recognition of the vital role spouses play across the Anglican Communion and a desire to support them.
Premier Bishop to attend Lambeth Conference without wife in protest at bar on gay clergy partners
The Bishop of Liverpool has said he will attend an international summit of Anglican leaders without his wife next year, in protest at a bar on the partners of gay clergy.
Rt Rev Paul Bayes described the decision to prevent same-sex partners of clergy from attending the 2020 Lambeth Conference as an "act of exclusion".
In a message posted on Twitter, he said: "I deeply regret that, in the fractious complexities of our life as a worldwide people, this act of exclusion has taken its place.
"It is a grief to me and to my wife, and to many others. Despite this, I aim to attend the Conference, alone, in the hope of a common future."
GAFCON has this view: Lambeth 2020 Descends into Confusion.