Update on the Lambeth Conference
Updated on 16 April
Two letters in The Times yesterday,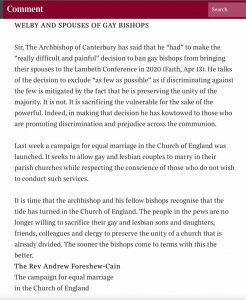 ,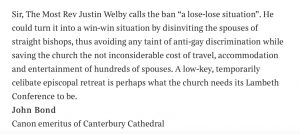 This blog by Marcus Green such a pain includes links to several comments on social media.
Previous report on this topic is here.
Today, Kaya Burgess in The Times (£) reports that Welby says gay bishop spouse ban was 'painful' but necessary.
…Speaking on a tour of the diocese of Peterborough, the archbishop said that he had met university bosses to discuss their concerns. He told The Times: "Well over 90 per cent of the Anglican communion are conservative on issues of sexuality. I've invited all the bishops, including those in same-sex marriages. And I had to consider . . . getting as many people as possible there and excluding as few as possible. It's a lose-lose situation."

He added: "I had to take what is a really difficult and painful decision to say, in order for the conference to be as representative as possible and get all the bishops there and not have the risk of some provinces not coming because they felt I was pushing the envelope too far, that I couldn't ask all the spouses."

He described the situation as "just the reality of such a widespread communion . I hope we'll get to the point where we are able disagree well and that's while affirming the doctrine of marriage in its traditional Christian form."
Some earlier reports:
Catherine Pepinster RNS reported on the meeting between the University of Kent and the Conference organisers: Lodging for spouses becomes Anglicans' latest battleground over LGBT clergy
…Last week the university met with communion officials to raise its  "significant ethical concerns" after university Vice Chancellor Karen Cox and council chair David Warren said they had "serious issues," calling the no-same-sex-spouses policy "contrary to the values" of the university.

Both sides are refusing to divulge what the outcome of the meeting was, but the university has now pledged to make accommodation available to spouses who want to be based in Canterbury with their partners for the duration of the Lambeth Conference — a move that will focus attention even more intensely on the Anglican Communion's policy of exclusion.

Anglican Communion spokesman Gavin Drake said the Lambeth Conference would go ahead at Kent University in 2020, and he added: "We are not speaking about this issue at all. What Kent does is up to them."
Mary Frances Schjonberg  had a comprehensive catch-up on events up to 2 April: ENS Refusal to invite bishops' same-sex spouses to Lambeth 2020 draws ire in Britain.
And the latest as of 12 April on registrations from ACNS: Lambeth Conference 2020: Over 500 bishops in 39 Anglican Communion Churches register:
Organisers of next year's Lambeth Conference of Anglican bishops have announced that 502 bishops and 382 spouses have so far registered for the decennial event, with the numbers rising each day. Registrations to date come from 39 of the Anglican Communion's 45 member Provinces and Extra Provincial Churches. "In comparison to the 2008 event when registrations had not started at this point, this is a most encouraging position to be in", Lambeth Conference Chief Executive Phil George said…
And also: The man on a mission to make the Lambeth Conference happen.