More about the exclusion of some spouses from the Lambeth Conference
Updated Friday evening scroll down for additional press releases from TEC House of Bishops meeting
Updated again Monday
Here is the response from the University of Kent to those who have written to them complaining about their hosting of a discriminatory event: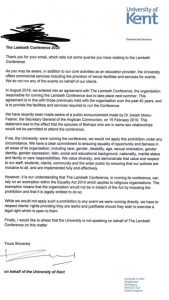 We reported previously on the row about invitations to spouses of bishops attending the Lambeth Conference next year, first here, and then also here.
On 14 March Ben Bradshaw MP asked in the House of Commons about this matter.
Watch the video here.
Ben Bradshaw Labour, Exeter

May we have a statement from the Second Church Estates Commissioner, Dame Caroline Spelman, on the outrageous decision by the Church of England to issue the official invitation to next year's Lambeth conference and explicitly forbid the same-sex spouses of bishops from attending, when the heterosexual spouses of bishops have been warmly invited? This is a totally unacceptable position for our established state Church to adopt, and this House needs to tell the Church we have had enough of it.

Andrea Leadsom Lord President of the Council and Leader of the House of Commons

I was not aware of that situation, and I am grateful to the right hon. Gentleman for raising it. If he would like to write to me, I will certainly raise it with my right hon. Friend Dame Caroline Spelman.
Today the Church Times has a report about the Canadian bishop, Kevin Robertson, affected by this:  Gay bishop accuses Primates of homophobia.
…When asked if he believed the fierce opposition to his presence, let alone Mr Sharma's invitation, from GAFCON­ aligned Primates was driven by homophobia, he replied "I do."

"Because it appears there's an inconsistency," he said, pointing to a blog by the Secretary-General of the Communion, the Rt Revd Dr Josiah Idowu-Fearon, which announced the policy of barring gay spouses (News, 22 February).

Dr Idowu-Fearon wrote that it was because same-sex marriages were inconsistent with a resolution on marriage from the 1998 Lambeth Conference which defined marriage as the lifelong union of one man and one woman.

"I know as we approach 2020 that there are bishops who have been divorced and remarried, in some cases more than once, who are being invited, and their spouses are also being invited," Bishop Robertson said.

"So to hold up Lambeth 1.10 as the reason for Mohan and Becki not to be invited seems a little thin; it doesn't seem particularly consistent…"
Meanwhile, the American bishop affected, Mary Glasspool, has addressed the American House of Bishops. Read the whole of what she said: The Way of Love and Lambeth: Bishop Mary D. Glasspool speaks to the House of Bishops.
…I'm going to close by making three brief points, and then offer some questions that we might choose to consider. The points are mine alone, although you certainly may agree or disagree with them. The first is this: Spouses are autonomous people – they are not simply extensions of the bishops to whom they are married. As children of God in their own right, in my view they have the agency and prerogative to make their own decisions about Lambeth. It is my hope that we will listen to their voices, individually, and to whatever degree they can speak collectively, as a group. I trust we will listen, and not attempt to speak for them.

Second, I really believe that it is better to be at the table when you're on the menu. How will people come to see and know the love of Christ as it lives and bears fruit in the lives of married LGBT people if we are not at the table to bear witness to that love?

And third, I want my own life to be centered in the life, ministry, death, and Resurrection of Jesus Christ, and I dare say you do, too. It is so easy, and at times very tempting, for me at least, to be drawn away from that center. So, I'm asking your help to stay centered. I'm keenly aware that the Way of Love is also the Way of the Cross. You all know this, too. The sacrificial aspect of Jesus' love for us is also the most precious, and for that, and for all of you, I am eternally grateful.

So here are some questions. How will we continue to be a hospitable house? At the Fall Meeting we will, God willing, welcome into our midst Bishop Thomas Brown and his spouse, Tom, and possibly other LGBT married partners. Certainly before the Lambeth Conference there may be more. How will we welcome them?

What is the best way to bear witness to God's love and justice at Lambeth? Are there creative ways to do this?
And there is a detailed news report from Episcopal News Service: Bishops consider response to Lambeth decision not to invite same-sex spouses to 2020 gathering.
The Episcopal Church's House of Bishops spent time on March 14 in both open and closed sessions considering how to respond to the decision to exclude same-sex spouses from the 2020 Lambeth Conference of bishops.

"We are not avoiding it. We are being prayerful, thoughtful, strategic about what is the loving action for us," Presiding Bishop Michael Curry told Episcopal News Service after the closed session ended. "We as a house are now thinking and considering what are the creative possibilities and loving ways that we can bear witness to the Way of Love that we are committed to as the way of following Jesus…."

…Before he closed the house, Curry asked the bishops to enter "the vision that Mary has invited us into" with two questions that she had just put to them: How will they continue to be a "hospitable house" and welcome new bishops with same-sex spouses? And, What is the best way and most creative way to bear witness to God's love and justice at Lambeth?

He invoked theologian Paul Tillich's idea that there is a "creative and saving possibility in every situation."

Curry asked the bishops to consider how to employ Tillich in finding ways to "witness to the communion that we love and that we are a part of, and on behalf of our sisters and brothers whom we love. What are those creative and saving possibilities that reflect the Way of Love even though it is hard?"

Curry suggested that they consider forming a small group of bishops and spouses to generate some ideas before the house's Sept. 17-20 meeting. The bishops and spouses will meet together in September. Spouses do not normally attend the spring meeting.
Updates from ENS
Bishops object to Archbishop of Canterbury's decision to exclude same-sex spouses to 2020 Lambeth Conference
…The majority of the house plans to go to Lambeth, according to the statement. The bishops said they want to continue to build relationships across the communion, "further the conversation around the various cultural expressions of marriage" and "reflect our understandings of marriage, as well as our commitment to the dignity of all human beings, including the human rights of LGBTQ+ persons."

The statement passed on a voice vote. At least one bishop, Dan Martins of Springfield, could be heard voting no….

…The bishops refused on a 44-42 show of hands to pass a second resolution calling on Presiding Bishop Michael Curry to ask Welby to change his mind. Curry told the house before the vote that he has had "one long conversation" with the archbishop and has exchanged letters with him as well.

"I've got to be honest with you, I don't expect he'll change, but I'm willing to say that this house really would like it to be reconsidered if there is any way that it can be," he said.
Episcopal House of Bishops March 2019: The Bishops' Mind of the House Resolution on Lambeth and a statement from the Bishops' Spouses Planning Group
A STATEMENT FROM THE BISHOPS' SPOUSES PLANNING GROUP
We join our voices with those in The Episcopal Church who have expressed their disappointment and dismay at the exclusion of same gender spouses from the invitation to Lambeth Conference. We especially stand with our fellow spouse, Becki Sander, spouse of Bishop Mary Glasspool, who is one of the spouses being excluded.
The Archbishop of Canterbury has stated that the theme of this Lambeth Conference is "God's Church for God's World: Walking, Listening, and Witnessing Together". The spouse community understands that the Anglican Communion is not of one mind with regard to marriage, and that, in the life of the Communion, this is a complex issue. Exclusion of same gender spouses, however, seems like a simplistic reaction to this complex issue. It saddens us that all are not welcome to walk, listen, and witness with us, and that all voices will not be heard at this gathering.
As Christians, we strive to live out our Baptismal Covenant and respect the dignity of every human being. A faithful expression of that Baptismal Covenant would be including same gender spouses to walk, listen, and witness with us at Lambeth.